SECTION II – DISCREPANCIES
This section lists all reported and corrected discrepancies related to Aids to Navigation in this edition. A discrepancy is a change in the status of an aid to navigation that differs from what is published or charted.
Providence River Channel Lighted Buoy 1 HAZ NAV/SINKING/TRLB 36/22
DISCREPANCIES (FEDERAL AIDS) CORRECTED
Pawtuxet Cove Channel Approach Buoy 1 WATCHING PROPERLY 28/22 44/22
DISCREPANCIES (PRIVATE AIDS)
Block Island Wind Farm WTG-3 Fog Horn SS INOP 34/22
Spindle Rock Buoy 8 MISSING 36/22
Fiddlers Cove Marina Buoy 5FC OFF STA/HAZ NAV 47/20
NEBW Daybeacon 1 STRUCT DEST 25/21
Bristol Harbor Daybeacon 6A DAYMK MISSING 40/22
Bristol Harbor East Channel Buoy 5 OFF STA/HAZ NAV 40/22
Bristol Harbor West Channel Buoy 1 OFF STA 08/22
Quonset Point Terminal Approach Buoy EB-B MISSING 26/22
Pawcatuck River Channel Daybeacon 19 MISSING 20/21
SECTION 111 – TEMPORARY CHANGES and TEMPORARY CHANGES CORRECTED
This section contains temporary changes and correction to Aids to Navigation for this edition. When charted aids are temporarily relocated for dredging, testing, evaluation, or marking an obstruction, a temporary correction shall be listed in Section IV giving the new location.
URI Coastal Monitoring Lighted Research Buoy DISCONTINUED 38/20
Pawcatuck River Channel Daybeacon 23 DISCONTUNUED FIR DREDGING 18/15
SECTION VII – GENERAL
his section contains information of general concern to the Mariners. Mariners are advised to use caution while transiting these areas.
RHODE ISLAND GENERAL NOTICES
Information for Mariners using the Waterways of the State of Rhode Island. Newest on top.
RI-NARRAGANSETT BAY–MT HOPE BAY–Vessel Testing-Update 10/24/2022
Regent Craft Inc. will be testing a prototype wing-in-ground-effect (WIG) craft in Narragansett Bay and Mt Hope Bay beginning July 7, 2022 until approximately May 31, 2023. The testing areas include the waters of Narragansett Bay, east and west of Prudence Island, and Mt Hope Bay. Testing of the prototype will last approximately 2-4 hours, Monday through Friday with occasional tests on weekends and occur during daylight hours only. All mariners are advised to use caution when transiting through these areas and avoid these areas if possible while testing is ongoing to deconflict traffic conditions. The vessel can be reached on VHF channel 13/16. For further information, please contact U.S. Coast Guard Sector Southeast New England at (508) 457-3211.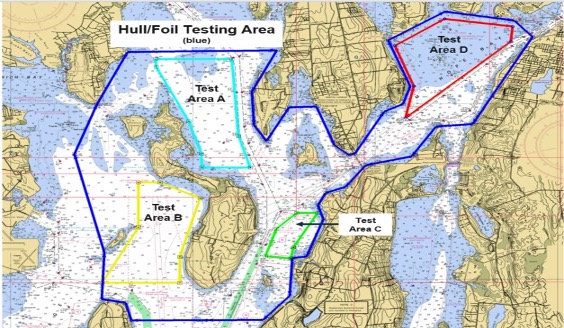 Chart 13226 LNM: 27/22
RI -BRISTOL HARBOR-MIDDLE GROUND-CASTLE ISLAND ROCKS
There is a partilally submerged vessel in position 41-39.219N 071-17.149W, in the vicinity of Middle Ground, between Castle Island Rocks, in Bristol Harbor. The vessel is anchored in 3 feet of water and is frimly affixed and has not moved during the tide cycles. Salvage planning has commenced and updates to this vessel will be provide as they become available. Mariners are urged to transit the area with caution and avoid the vessel.
Chart 13224 LNM: 35/22
RI-DYER ISLAND
There is a partially submerged vessel in positon 41-34-54.78N and 071-18-6.48W, in the vicinity of Dyer Island being marked by a white danger buoy. Mariners are urged to transit at their slowest safe speed, avoid the vessel, and proceed with caution.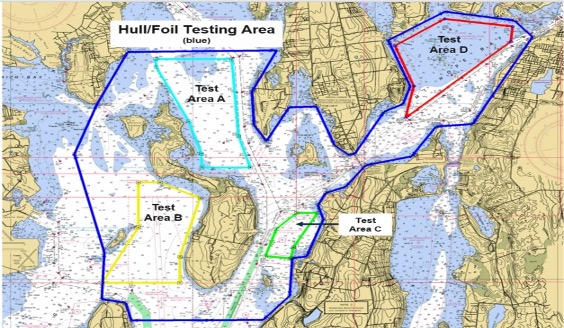 Insert Partially Sub Vessel Dyer Island pic
Charts: 13221 13223
RI-NARRAGANSETT BAY
Naval Undersea Warfare Center will be conducting continued testing using surface and subsurface devices north and east of Gould Island in the vicinity of the torpedo test range restricted area marked on NOAA Chart 13223 and the Newport Bridge Monday – Friday from September 2021 through December 2022. Mariners are requested to cooperate with participating vessels for the safety of all. Any concerned traffic can contact Navy support craft on VHF channels 13 and 16.
Chart 13223 LNM 35/21
SUMMARY OF SHOALING REPORTED FIRST COAST GUARD DISTRICT
Updated 11/02/2022
New, updated or very important information in this enclosure will be highlighted in yellow
RHODE ISLAND SHOALING
RI-NARRAGANSETT BAY (CHART 13221)-GREENWICH BAY-WARWICK COVE
Shoaling has been observed within the federal navigation channel to a least depth of 3 FT MLW. Shoaling is encroaching from the west and has impacted the western part of the channel, reducing the authorized project width from 150 feet to approx. 90 feet between Warwick Cove Buoy 3 (LLNR 19360) and Warwick Cove Buoy 7 (LLNR 19375).
Chart 13224 LNM 02/22
RI-BLOCK ISLAND SOUND AND APPROACHES (CHART 13205)-POINT JUDITH POND
Shoaling has been observed within the channel to a least depth of 5.5 feet MLW in approximate position 41 22'48″N, 071 33'55″W between Point Judith Pond Channel Buoy 2 (LLNR 19555) and Point Judith Pond Channel Buoy 4 (LLNR #19560). Shoal is encroaching from the East side of the channel and protruding west.
Chart 13219 LNM 02/22
Encl 1
RI-NARRAGANSETT BAT (CHART 13221)-MOUNT HOPE BAY-KICKAMUIT RIVER
Shoaling has been reported in the Kickamuit River in the vicinity of Kickamuit River Buoy 2. Mariners are advised to proceed with caution while transiting the area.
Chart 13221 LNM 12/21
RHODE ISLAND RHODE ISLAND – PROVIDENCE RIVER – SEAWALL REPAIRS
The Narragansett Electric Company and JF Brennan Company are performing repairs to the Seawall Bulkhead in Providence: 41-48-00.3N 71-23-31.3W. Work will take place from March 14, 2022 to April 1, 2023. A Crane Spud Barge, a Materials Barge, Work Floats and Marine Vessels operating in the Work Area defined below to perform demolition activities on the existing seawall and install a new sheet pile wall. Work hours are 6:00am to 6:00pm. Project operations will monitor VHF Channels 13 and 16 during working hours. Questions or concerns may be directed to the Project Manager, Kristian Theriault at 401-378-1876 (kristian.theriault@nationalgrid.com). Mariners should use caution when transiting the area.
Chart 13225 LNM 10/22